For the convenience of our favourite people, our Customers, we have built the Brits Poles Express depots. Transport costs a lot and many of our valued Customers come from far to buy our quality poles. Our aim is to offer the same great quality and service, closer to your door.
The Brits Poles Express depots are a smaller version of the bigger Brits Poles Retail Store with maybe less of the 'nice-to-have' products and more of the 'what-you-need-urgently' products. The service is fast and friendly. If a Brits Poles Express depot does not have what you want, we can have it brought from the Brits Poles Retail Store with the very next order.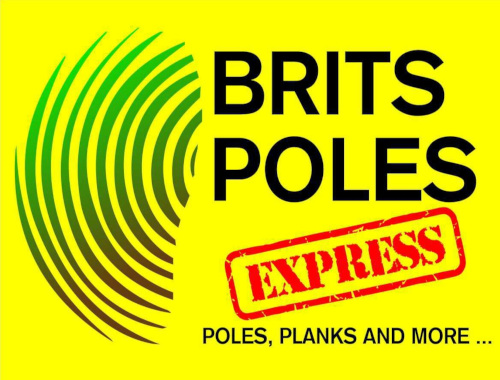 The Brits Poles Express depots offer the following products:
Treated Poles
Untreated Poles
Planks
Thatching Grass
Varnish and Timber Treatment products
Threaded Rods, Bolts and Nuts
Brackets, Screws and Fasteners
Being closer to our Customers, make our products more accessible and saves on Transport.
Please find the Details of our growing Brits Poles Express depots below:
Rustenburg Brits Poles Express Depot
R510 North (driving from Rustenburg to Boitekong)
Contact Person: Willie Coetzee – 074 248 2719
Lethlabile Brits Poles Express Depot
Next to OK MiniMark & Puma Best End Brits, on the Lethlabile Rd.
Contact Person: Jeanbie Scheepers – 076 740 7975
Western Cape Brits Poles Express Depot
8km outside Worcester on the Robertson road(R60), opposite Pampoen Padstal.
Contact Person: Jo van der Spuy – 076 840 2158